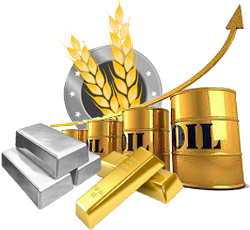 Buy Gold February futures at Rs 30,760-30,800 with a stop loss at Rs 30,610 and target at Rs 31,020, 31,280.
Buy Silver March futures at Rs 37,100  with a  stop  loss  at  Rs 36,653  and  target  at Rs 37,650-37,900.
Crude oil's trading range for a week is Rs 3,650-3,950 per barrel.
Futures contracts of crude oil are likely to remain volatile because the drama surrounding the renewal of a deal between the OPEC and its allies to cut production will conclude at a meeting.
The group will meet on December 6-7. The quantum of the cut could be between 0.5 million barrels per day and 1.5 million barrels per day.
If no deal is seen, there will be a risk of prices falling further because the overall supply remains high.
Crude oil and USD INR are in oversold zone and the US dollar is looking to bounce which will support crude oil prices.
Buy Crude oil December futures at Rs 3,710 with a stop loss at Rs 3,600 and target price at Rs 3,850-3,980.
Natural gas was the best performing commodity in November, defying overall losses in the energy sector that saw crude-oil prices drop over 20 percent for the month.
Demand for the heating fuel tends to increase as temperatures drop toward the end of the year, but the climb in natural gas was impressive, with futures prices climbing roughly 41 percent for the month.
Natural gas is creating triangle formation where upper breakout is Rs 329 and on lower side support is at Rs 286.
Base metals are expected to trade slightly higher this week with the US and China agreeing on a temporary ceasefire on hiking import duty.
Chile's state copper miner Codelco said it has agreed on a new collective labour contract with the union of workers at its Ministro Hales mine in northern Chile.
Buy Copper February futures at Rs 434.50 with a stop loss at Rs 424 and target at Rs 446, 454.
Aluminium Corp of China Ltd is cutting output on some of its production lines in northern China, as Chinese aluminium prices sank to a fresh two-year low.
Buy Aluminium December futures at Rs 138.50 with a stop loss at Rs 137.20 and target at Rs 141.20, 142.50.
All base metal Trading Mcx free tips and mcx gold Silver live chart update in this site.
Zinc prices recovered on short covering after falling because of expectations of weak demand from China.
A cut in output in one of the major zinc consuming countries could have a significant impact on prices and could explain why zinc prices are falling when the rest of the base metals pack is not.
A total of 79 Chinese cities have triggered air pollution alerts as severe winter smog covers wide swaths of the country.
Sell Zinc December futures at Rs 189 with a stop loss at Rs 192.80 and target at Rs 183.20, Rs 179.50.
Nickel is in oversold zone but looking to trade sideways to little up-trend.
Buy Nickel December futures at Rs 780-784 with a stop loss at Rs 765 and target at Rs 804, Rs 810.